You can't afford to overlook any opportunity to promote your brand. You put it on your ID badges and cards, so why not extend your visibility to the lanyard that holds these valuable brand boosters? With so many ways to personalize your lanyard, J. O'Brien can put you up to your neck in custom lanyard options. Here are a few ways you can turn a basic cord into a branding tool.
Choose the lanyard material.
O'Brien offers a range of lanyard materials: organic cotton, bamboo (with rayon), antimicrobial polyester, nylon, and recycled P.E.T.
Next, choose the surface type for your custom lanyard. The most economical option is flat woven, but we also offer the following choices for polyester lanyards:
OptiWeave™: This flexible, tubular polyester material works superbly with silkscreen printing (available in 5/8" width).
MicroWeave™: The ribbed texture of this polyester is like an exaggerated grosgrain ribbon and is a popular lanyard choice.
UltraWeave™: This smooth lanyard material is like a satin ribbon and provides an exceptional surface for imprinting,
Flat woven is available in 3/8" width; bamboo is offered in 3/8", 5/8", and ¾" widths. Our other materials come in 3/8", 5/8", ¾", and 1" widths.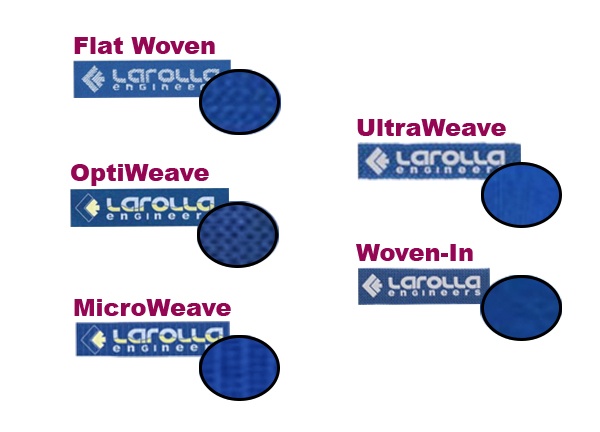 Pick your printing preference.
There are various ways to imprint your design. Review your custom lanyard printing choices and think about the appearance you want.
Silkscreen: The ink is printed on the lanyard, with a durable, quality result. We can silkscreen up to three colors for your design on just about any available lanyard material.
Dye sublimation: With this process, the ink is actually dyed into the material, not printed on top of it. MicroWeave and UltraWeave accept dye sublimation beautifully.
Woven-in: Your design is actually woven into the lanyard material, with the reverse of the design appearing on the opposite side.
Foam printing: Get a three-dimensional look for your lanyard with raised imprinting of up to three colors.
Liquid silver: One of our most unique lanyard imprinting methods, this option molds and adheres individual letters, in black or white, to a lanyard.
Select the attachment.

The attachment is the component that connects the ID card to the lanyard. You can use a split ring, bulldog clip, J hook, or plastic hook. Many of these attachments also present the choice of a swivel or non-swivel hook.

A safety breakaway is another choice for your custom lanyard. In the event the lanyard is pulled, snagged, or stuck, the safety breakaway clip separates, eliminating the choking hazard.

Go with a pro.

Finally, use a custom lanyard provider who has the experience, resources, and customer service expertise to get you what you want and when you need it. Talk to J. O'Brien about our extensive array of custom lanyard options, as well as our other ID and visitor management solutions.