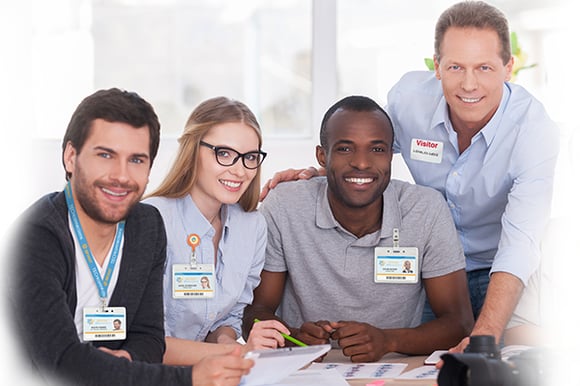 ID cards are great for displaying credentials and controlling access to your facility. After deciding on the security features and branding of your ID cards, you need to decide how the ID card will be displayed.
Option 1: Strap Clip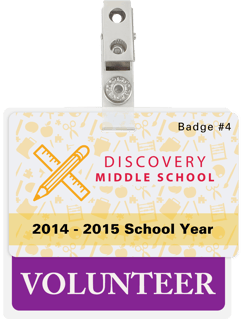 Strap clips are the simplest way to attach an ID card to yourself. The clip will have a strap attached to it. Slide the strap through the credentials and then snap the strap together. Simply clip the badge to yourself to display credentials easy and seamlessly.
Benefits of strap clips:
Economical and affordable: Clips can range from plastic to vinyl, all which are cost effective.
Variety of uses: Strap clips can be used by itself, with a badge holder, with a lanyard, or with a badge reel.

Easiest to use
Cons: Strap clips can leave marks on clothes. Also, it can be inconvenient to unclip your credentials every time you need to swipe your credentials.
Read our blog on strap clip options.
Option 2: Badge Holder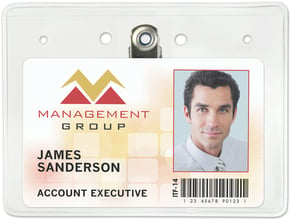 Badge holders are the most durable way to attach an ID card to yourself. If you're working in an active area, such as an area with dust or water, a badge holder is a great way to attach your credentials. Slide your credentials into the badge holder and then attach the badge holder to yourself, to a strap clip, to a lanyard or a badge reel.
Benefits of Badge Holders:
Increased durability: Protection from scratches. Rigid holders that prevent the card from bending. Anti-transfer technology so the printing on the card does not rub off.
Increased security: shielded badge holders can prevent the credentials from theft called skimming. Skimming is an electronic method of capturing credentials.
No need to slot punch the cards: Some badge holders have a slot at the top where you can slide an attachment through.There is also clips on the back of the holder where you can directly attach the badge holder to yourself.
Cons:

If you are constantly using your card, such as computer access and secure printing, you will have to remove your credentials from the badge holder multiple times a day.

Option 3: Lanyards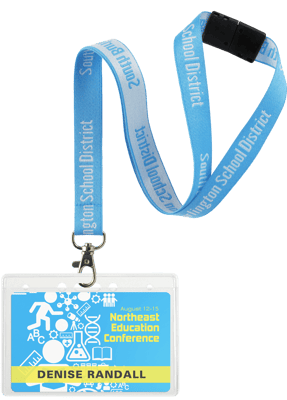 A lanyard is the most noticeable way to display your credentials and promote your brand. The lanyard lays around your neck and promptly displays your credentials on your chest. Additionally, the size and placement of the lanyards are great for brand awareness by displaying a logo or a slogan.
Benefits of Lanyards:
Customizable: Create brand awareness and brand consistency by adding logos or slogans to your lanyard. You can also customize your lanyard color, size, and material.
Increased security: Credentials are displayed in an obvious manner, and different color lanyards can separate visitors from employees.
Cons:

A lanyard can get caught if you are bending over frequently. It's important to consider a breakaway lanyard as a saftey hazard, so when your lanyard gets caught you're still safe. Also, lanyards can be frusterating and in the way if you are bending down to work with others.

Option 4: Badge Reel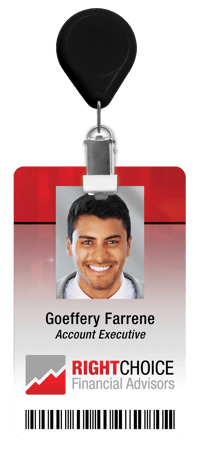 If an ID card needs to be swiped or scanned for the credentials to be used, the badge reel is the perfect solution. Attach your credentials to the badge reel. When you need to open the door, simply pull the credentials from the reel. A cord will pull out from the reel giving you room to swipe or scan your credentials.
Benefits of Badge Reels:
Retractable design: Keep credentials out of the way; allows for ease of use when you need to scan.
Customizable: Imprint area on badge reel can be customized with high end graphics, such as logos or slogans.
Placement can be tailored to individual: A badge reel can be placed in numerous places, such as your belt, shirt pocket, jacket or purse.
Cons: If you are active in your job, a badge reel may get tangled or caught on items.
Conclusion
It's important to know you can use any one of these options by themselves, or you can combine these options. For example:
You can attach a badge holder to a lanyard, badge reel or strap clip.
You can combine a badge reel and a lanyard together.
ID cards are great for displaying credentials and controlling access to your facility. Regardless of the option you choose, make sure to assess your security needs followed by your brand identity. After deciding on those factors, begin looking into the options to display your ID cards.