If you work in security for a Fortune 500 company, a hospital, a school, or another organization, monitoring visitors is a top priority. With safety as your chief concern, it's important to identify, manage, and track visitors throughout the day. An effective way of doing this is to print professional visitor badges for your organization. You might require a printer that can keep up with high volumes, like conferences and events. Maybe you want VIP quality. But possibly your visitor badge needs are simple and you're looking for a handy, affordable solution to produce basic labels for your guests. At J. O'Brien, we have options that will suit your needs and your budget. Here is a breakdown of the best options for printing visitor badges.
Good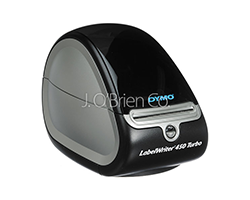 The standard, most economical option used by many companies is the Dymo Labelwriter 450. The Dymo produces up to 71 visitor badges per minute. This compact printer fits wherever you need to produce labels, and the device reflects the simplicity and reliability that goes with the Dymo name. With no ink costs, it's also an affordable option for producing the labels you need.
This option is really meant for bar codes and black text because it doesn't offer a lot of detail when it comes to security. If you are a smaller organization with fewer printing needs, or you're just starting out, you might be fine with this option. You can always upgrade to a more professional machine as the need arises.
Better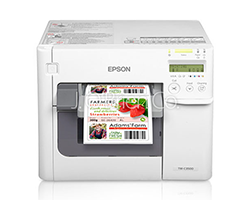 If you want to add color to your visitor badges, the Epson ColorWorks C3500 delivers high quality, with the durability that comes from long-lasting pigment ink that dries quickly and resists smudges, scratches, and fading. Print up to 4.4" wide on glossy or matte paper and tag stock. With the ColorWorks C3500, you can print your logo in full color, plus add a barcode and other information to extend the functionality of your visitor badges—like color coding to segment levels of access, services, and guest benefits. Users appreciate the simplicity of this printer, including the easy loading and the LCD screen that shows ink levels and printer status.
Best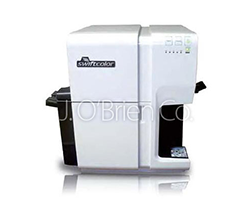 The SwiftColor SCC4000D Oversized Credential Printer is the best option for ultra-professional results. It features single-pass print-head technology and prints in beautiful 1200 dpi on PVC or paper stock. This VIP printer is also super fast and knocks it out of the park by printing a 3.5" x 5.5" full-color card in under two seconds. If you are looking to print a high volume of cards with high-quality results and wow your visitors, this is your best option.
Conclusion
Whether it's a guest, a temporary employee, or a contractor in your organization's facilities, you will want to track their comings and goings with a professional visitor badge. Save time and money by printing your badges in-house and choose a printer that grows with you. When it comes to safety, the investment is always worth it.