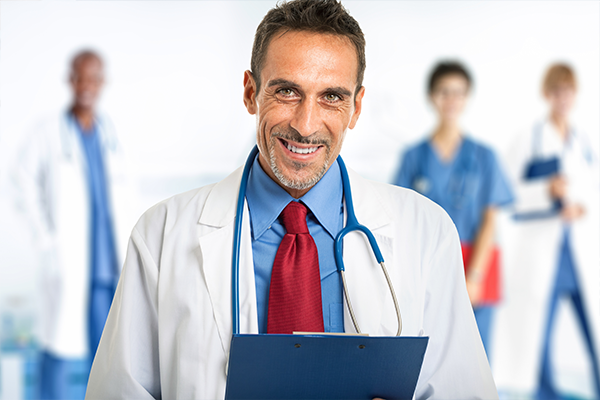 Streamline hospital visitor registration by utilizing EasyLobby's HL7 interface. EasyLobby's system will provide a real-time interface to HL7-based patient information systems.
What is EasyLobby SVM?

The EasyLobby Secure Visitor Management(SVM) is a secure approach to effectively identify, manage, and track visitors, temporary employees, or contractors in your organization's facilities provides. The system provides versatility by offering the ability to integrate with third party software applications owned by the customer. This ability is backed by HID's professional service and engineering teams. The system can produce a seamless integration even if your system or network structure requires a unique deployment.
Why Do You Need The HL7 Add On?
The healthcare industry is being greatly affected by data and privacy legislation. The EasyLobby HL-7 integration provides several advantages to hospital security and IT stakeholders.
The HL-7 integration add-on allows for employees, guards, volunteers, etc, to associate hospital guest information to patients currently admitted. The add on does this without exposing confidential patient information.
The "one-screen" approach improves efficiency by allowing the patient information system currently utilized to communicate via a TCP/IP Socket. This connection provides the operator with real time information to ensure the guest is provided the most accurate information as a patient is admitted, transferred, discharged, etc.
As the patient information is updated within your health record management system, message segments are pushed to the EasyLobby Program in accordance to HL7 2.3 standard.
Table One: An overview of the message events that would be handled by Easy Lobby HL-7 Service: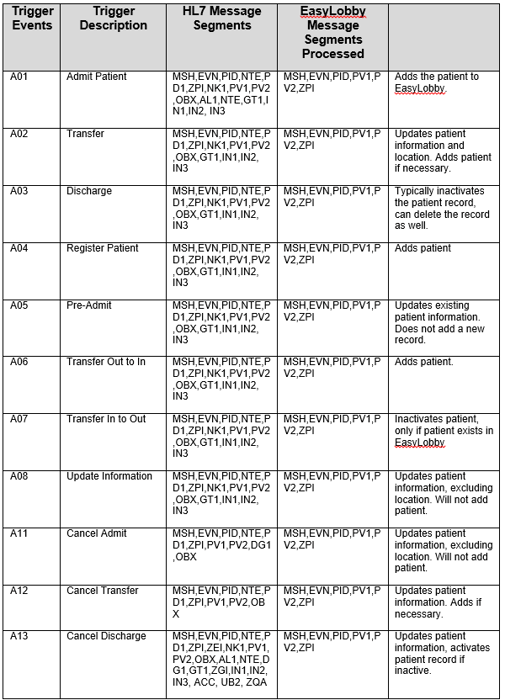 This process is made possible by the mapping which utilizes the "employee form". The employee form is preexisting within the EasyLobby software. The form connects the HL-7 fields located within your HRM to specific EasyLobby database fields.
Table Two: How a typical field mapping procedure is displayed:

Last Step:
Once this process is setup to meet your facility's specific use case, the final step is to update the default General User Interface (GUI).
This will allow for ease of use and understanding among operators. EasyLobby's "out of the box" preexisting features include: changing fields, tabs, and patient designations. You can customize the look and feel of these preexisting features to match your facility's policy and procedures, such as field titles and data management/display.