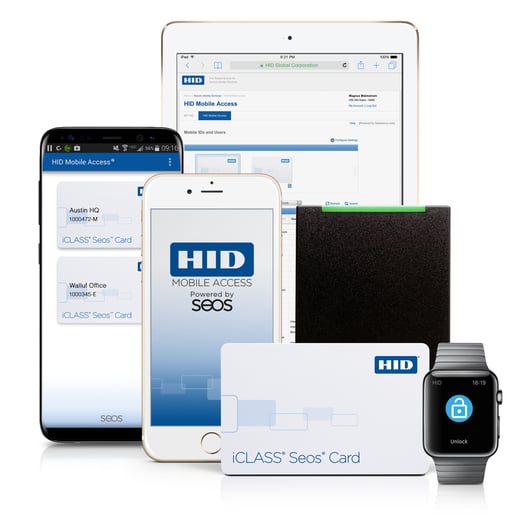 It's a mobile world. From smartphones to wearable and tablets, mobile devices are ever present in today's work environment, always on hand, serving a variety of purposes. Mobile has become the go-to technology of the new millennium, offering convenience and portability. Leveraging mobile technology to access doors, parking facilities and gates – not to mention networks and other enterprise applications and much more – is a logical step in the evolution of access control.
Redefining How We Think About Access Control
HID Global is leading innovation with its award-winning HID Mobile Access® solution that extends access control functionality to mobile devices. End-users securely and conveniently access the workplace using their smart device that is almost always on-hand. People don't go anywhere without their mobile device of choice – unlike badges that get left behind or lost.
HID Mobile Access makes the freedom to move access control to phones, tablets, watches and other wearables a matter of preference. The solution can be deployed as a pure mobile solution or integrated it into an existing card-based access control system. Open doors and gates with a short-range tap or from a distance using Twist and Go activation. The solution also supports the widest variety of mobile devices in the industry today.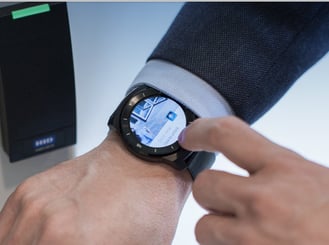 Meeting the demand for convenient mobile solutions
More Than Just Door Access
The same mobile device you use to open gates and doors, can allow you to log on to the network, open electronic locks and securely release documents from the printer. You can also use this same device for time and attendance, to get a snack from the vending machine
or access the electronic vehicle charging station. HID Mobile Access is connecting the environment like never before.
IT security and facility management can now move toward consolidated access programs. The efficiency and potential cost savings gained through centralized access management is becoming more attractive to organizations as they are asked to do more with less.
MORE CONFIDENCE
Unprecedented security and privacy protection of identity data
Powered by breakthrough Seos® credential technology, HID Mobile Access delivers the highest level of security and privacy protection available for access control. The award-winning technology is based on ISO standards and used by the U.S. government and organizations globally to encrypt classified or sensitive data.
Today, maintaining privacy of sensitive identity data is more important than ever. Protecting that privacy in a mobile-first world requires greater diligence and more forethought. HID Global is committed to staying ahead of emerging regulatory compliance for data privacy. HID Mobile Access solutions only collect information required for service. No personally identifiable information (PII), financial or healthcare data is stored.
Integration and Technical Support
Through certified channel partner's such as J. O'Brien HID Global Professional Services™ provides support to integrate mobile into organizations access control systems – Conducted by certified consultants and leveraging best practices in mobile access deployment, services include:
Strategic consultation
Solution design
Implementation
Training
Efficiently Manage Users

Efficiently deploy and manage mobile users with HID's Mobile Access Portal and App. Powered by our award-winning Seos® technology, HID Mobile Access provides superior identity management with the most dynamic and complete mobile solution available today. Mobile-enabled readers, secure mobile IDs, cloud-based management portal – all built to work together, seamlessly. HID Mobile Access Portal features:
A user-friendly interface for administrators
Simple enrollment for end-users through our intuitive App
Each transaction is unique to ensure privacy
Access rights can be easily managed by an administrator at any time
Highly secure
To learn more about deploying mobile access contact us