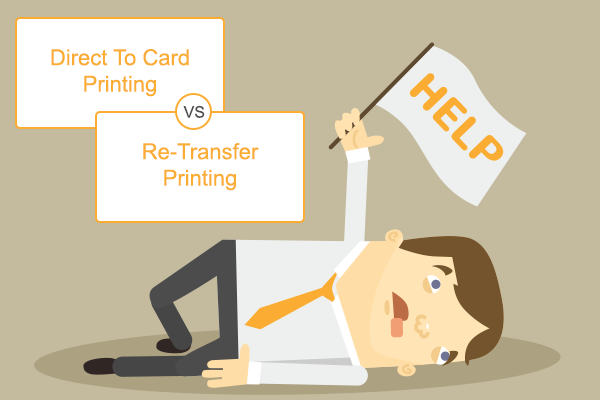 Today's card printers most often use one of two printing technologies: direct-to-card or retransfer printing. If you're unsure about which card printer is right for your applications, look at what each can do.
A direct-to-card printer does exactly that. Using a thermal print process, the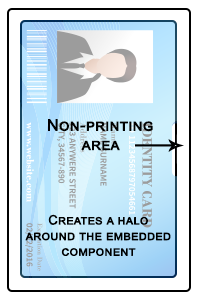 printhead transfers the image to a dye ribbon which then applies it to the card's surface. Also known as "dye sublimation", the ink is applied one color at a time, with the ink vaporizing from the heat and onto the card. A DTC card printer produces vivid color and, depending on the quality of the cards you purchase, a durable one as well. The quality of the output also depends on the contact between the printhead, dye ribbon, and the card. An uneven surface, like a smart card, will not reproduce the image well. In addition, DTC card printers cannot print edge-to-edge, however, so there will always be a small boundary of unprinted card stock. On the plus side, a direct-to-card printer is an affordable option, both in the price of the printer and the supplies.
Reverse thermal transfer or retransfer printing uses a two-step process to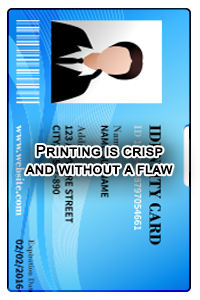 imprint the card. First, the image is printed in reverse onto a clear receiving layer on a film. Heat and pressure are then applied to this film to transfer the image and the film onto the card's surface. The layer actually fuses to the card, over the printed image, creating a more durable product. Retransfer printing produces superior clarity in the image, and allows edge-to-edge printing, even on smart cards, proximity cards, and others that lack a perfectly smooth surface.
Because the printhead never contacts the card's surface—where it can accumulate dirt and dust—it doesn't experience the same wear and tear as a DTC printhead.
Of course, these benefits come at a price. A retransfer card printer is more expensive than a direct-to-card printer and you'll need composite (not PVC) cards to handle the heat that's required to bond the image to the card. However, if you're looking for more secure and durable cards that provide higher print quality with more card options, the initial cost is certainly worth the investment.
At J. O'Brien, we offer both direct-to-card printers and retransfer card printers, in addition to a wide range of printing supplies for your ID cards and badges. Contact us to determine which card printer is the best choice for you.